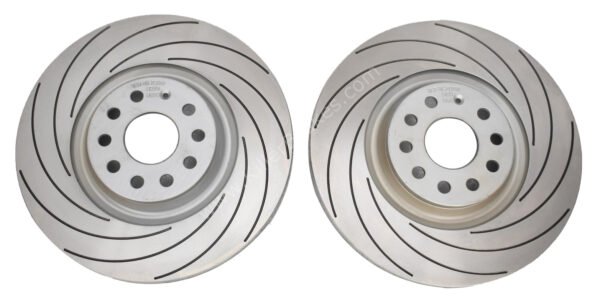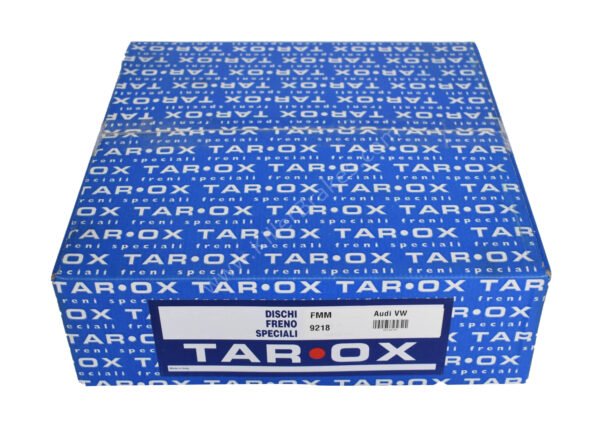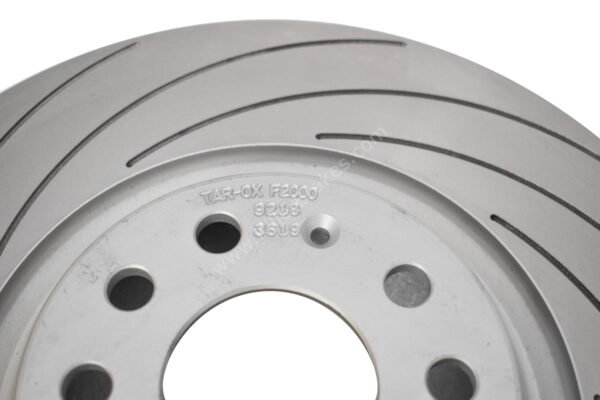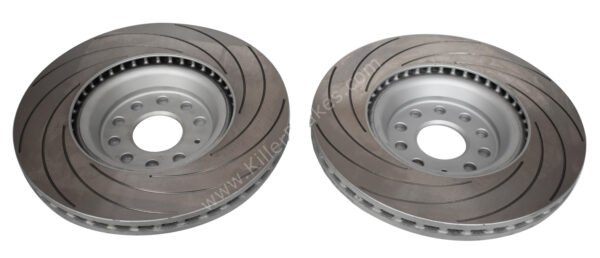 Front TAROX F2000 Brake discs 340x30mm 9218-F2000 New
€378 incl. VAT => €450 Available on backorder in 7-10days after order is received
Upgrade your vehicle's brakes with these TAROX F2000 Brake Discs. Measuring 340x30mm, they offer exceptional stopping power and durability.
Description
Additional information
Description
Front TAROX F2000 Brake discs 340x30mm 9218-F2000 New
Front TAROX F2000 Brake discs 340x30mm 9218-F2000 New
What is included:
2x Front TAROX Brake discs 340x30mm Product code: 9218-F2000  Audi/VW Product code:1K0615301AD 

New
Specifications:
Multiple curved grooves
Ultra strong design
Ideal for track use
Heat treated for strength and durability
Precision finished by hand

Rust Coating

(perfect for winter use)
F2000 discs are the ideal solution for those who alternate the use of the car on the road with serious sessions on the track. The curved grooves on the braking surface deglaze the pads and allow the disc to run cooler. Compared to G88 the F2000 discs feature less grooves which strikes the perfect balance between heat dissipation and strength ensuring they cope with even the most demanding use on track. All F2000 discs are based on original equipment specification, TUV approved castings, heat treated for strength and hand finished to ensure the smoothest possible braking surface.
TECHNICAL INFORMATION:
    Diameter (mm): 340
    Height (mm): 49.6
    Thickness (mm): 30
    Min. Thickness (mm): 27
    Inner Diameter (mm): 65
    Number of Holes: 5
    PCD (mm): 112
    Axle: Front
Compatibility:
Axle       Make    Model   Engine / Year
Front     AUDI     S3 (8V) 2.0 Turbo (2012-)
Front     AUDI     S3 (8V) 2.0 Turbo (2013-)
Front     AUDI     S3 (8V) 2.0 Turbo (2016-)
Front     AUDI     TT quattro (8S)  2.0 Turbo (2014-)
Front     AUDI     TTS quattro (8S)                2.0 Turbo (2014-)
Front     AUDI     TTS quattro (8S)                2.0 Turbo (2015-)
Front     SEAT      Leon (5F)             2.0 Turbo Cupra (2014-2016)
Front     SEAT      Leon (5F)             2.0 Turbo Cupra (2015-2018)
Front     SKODA  Octavia (5E)        1.8 Turbo (2013-)
Front     SKODA  Octavia (5E)        2.0 TD (2013-)
Front     SKODA  Octavia (5E)        2.0 Turbo RS (2013-)
Front     SKODA  Octavia (5E)        2.0 Turbo RS (2015-)
Front     SKODA  Octavia (5E)        2.0 Turbo RS (2017-)
Front     SKODA  Octavia (5E)        2.0 Turbo vRS (2013-)
Front     SKODA  Octavia (5E)        2.0 Turbo vRS (2015-)
Front     SKODA  Octavia (5E)        2.0 Turbo vRS (2017-)
Front     SKODA  Superb (3T)         3.6 4WD (2014-2015)
Front     SKODA  Superb (3V)        2.0 Turbo (2015-)
Front     VOLKSWAGEN  Arteon  1.5 Turbo (2018-)
Front     VOLKSWAGEN  Arteon  2.0 TD (2017-)
Front     VOLKSWAGEN  Arteon  2.0 TD (2018-)
Front     VOLKSWAGEN  Arteon  2.0 TD 4motion (2018-)
Front     VOLKSWAGEN  Arteon  2.0 Turbo (2018-)
Front     VOLKSWAGEN  Arteon  2.0 Turbo 4motion (2017-)
Front     VOLKSWAGEN  Arteon  2.0 Twin TD (2017-)
Front     VOLKSWAGEN  CC           2.0 Turbo (2012-2017)
Front     VOLKSWAGEN  CC           3.6 (2012-2017)
Front     VOLKSWAGEN  Golf (Mk7)          2.0 Turbo GTi (Performance Package) (2013-2017)
Front     VOLKSWAGEN  Golf (Mk7)          2.0 Turbo GTi (Performance Package) (2017-)
Front     VOLKSWAGEN  Golf (Mk7)          2.0 Turbo GTi Clubsport (2016-)
Front     VOLKSWAGEN  Golf (Mk7)          2.0 Turbo GTi Clubsport S (2016-)
Front     VOLKSWAGEN  Golf (Mk7)          2.0 Turbo R (2013-)
Front     VOLKSWAGEN  Golf (Mk7)          2.0 Turbo R (2017-)
Front     VOLKSWAGEN  Passat   2.0 Turbo (2015-)
Front     VOLKSWAGEN  Passat   2.0 Twin TD (2014-)
Front     VOLKSWAGEN  Passat   3.6 4 Motion (2012-2014)
Front     VOLKSWAGEN  Passat Alltrack (3G)         2.0 TD (2015-)
Front     VOLKSWAGEN  Passat Alltrack (3G)         2.0 Turbo (2015-)
Front     VOLKSWAGEN  Tiguan (Mk2)     1.4 Turbo (2016-)
Front     VOLKSWAGEN  Tiguan (Mk2)     2.0 TD (2016-)
Front     VOLKSWAGEN  Tiguan (Mk2)     2.0 Turbo (2016-)
Front     VOLKSWAGEN  Tiguan (Mk2)     2.0 Twin TD (2016-)
Front     VOLKSWAGEN  Tiguan Allspace 1.4 Turbo (2017-)
Front     VOLKSWAGEN  Tiguan Allspace 2.0 TD (2017-)
Front     VOLKSWAGEN  Tiguan Allspace 2.0 TD 4Motion (2017-)
Front     VOLKSWAGEN  Tiguan Allspace 2.0 Turbo 4Motion (2017-)
Front     VOLKSWAGEN  Tiguan Allspace 2.0 Twin TD 4Motion (2017-)
Minimum wheel size 17"
For more information please contact us at Office@killerbrakes.com