Racingline Big Brake Stage 3 Kit For VW/Audi MQB 380mm VWR650000-RED
Racingline Big Brake Stage 3 Kit For VW/Audi MQB 380mm VWR650000-RED
€3,374 incl. VAT => €4,015 Available on backorder in 7-10days after order is received
€3,374 incl. VAT => €4,015 Available on backorder in 7-10days after order is received
Description
Additional information
Description
Racingline Big Brake Stage 3 Kit For VW/Audi MQB 380mm VWR650000-RED
Racingline Big Brake Stage 3 Kit For VW/Audi MQB 380mm VWR650000-RED
Application:
VW Golf 5 2005-2008 1K
VW Golf 5 GTI 2005-2008 1K
VW Golf 5 R32 2005-2008 1K
VW Golf 5 GTI ED30/Pirelli 2006-2007 1K
VW Golf 6 2008-2014 5K
VW Golf 6 GTI 2009-2014 5K
VW Golf 6 GTI Ed35 2009-2014 5K
VW Golf 6 R 2009-2014 5K
VW Scirocco TSI/TDI 2008+
VW Scirocco R 2009+
VW Jetta V GLI 2005-2011 1K
VW Jetta VI GLI 2011+ 1B
VW Passat CC 2008-2017 A6
Audi A3 2003-2012 8P
Audi S3 2006-2012 8P
Audi TT 2.0 TFSI II 2006-2014 8J
Audi TTS II 2008-2014 8J
Audi TTRS 8j 8S 2008-Present
SEAT Leon II 2005-2012 1P
SEAT Leon Cupra/R II 2006-2012 1P
Skoda Octavia II 2004-2013 1Z
Skoda Octavia vRS II 2004-2013 1Z
VW Golf 7 2012+ 5G
VW Golf 7 GTI 2013+ 5G
VW Golf 7 R 2013+ 5G
VW Golf 7 GTI ClubSport 2016+ 5G
VW Golf 8 Gti R
VW Passat & Arteon 2.0 TSI B8 2015+ 3G
Audi A3 2012+ 8V
Audi S3 2013+ 8V
Audi TT III 2014+ 8S
Audi TT 2.0 TSI III 2014+ 8S
Audi TTS III 2015+ 8S
SEAT Leon III 2012+ 5F
SEAT Leon Cupra III 2014+ 5F
Skoda Octavia III 2013+ 5E
Skoda Octavia vRS III 2014+ 5E
Skoda Superb 1.8 / 2.0 TSI 2015+ B8 3V
Volkswagen  Arteon
Volkswagen T-Roc
Audi Q3 , Rsq3 8U 2014-2018
What is included:
Racing line VWR650000-RED Brake kit
1x Front Racingline set of Left and Right 'Forged Monoblock' 6-piston aluminum thin-profile calipers color

Red

2x Caliper Mounting Bracket Pair
1x Full Bolt Mounting Kit
1x Braided Steel Brake Line Set Product Code: VWR69G7FR
2x Triple Groove 2-piece Brake Disc 380x34mm Product Code: VWR680004
1x Racingline Sport Brake Pad Set
Weight Reduction: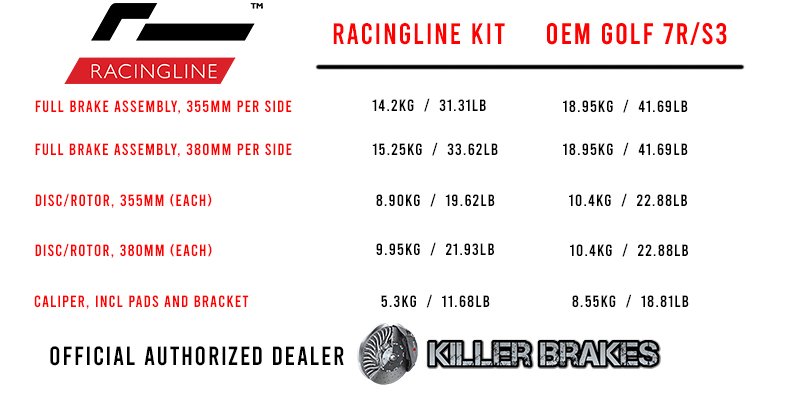 Requirements:
Minimum wheel size 19″
Hub Adaptors For Perfect Fitment Product code: VWR620005MM
Clearance over big brake kits is always a challenge, especially when used under factory wheels.
RacingLine's brake kit features our unique design that allows these 5mm Hub Adaptors to be solidly, mechanically mounted onto the front face of the disc to give you that extra clearance. No more adding loose spacers onto your car (and approved in markets where spacers are illegal).
Changing your rims? Swapping from summer to winter wheels? Or track to road wheels? No problem, the Hub Adaptors are installed and removed in minutes
We recommend this 5mm Hub Adaptor for anyone using this brake kit under factory wheels.
Fitting:
Fitting is plug and play
Brake kits are advised to be fitted by qualified mechanic
For more information please contact us at Office@killerbrakes.com
Additional information
| | |
| --- | --- |
| Weight | 32 kg |
| Dimensions | 54 × 44 × 40 cm |