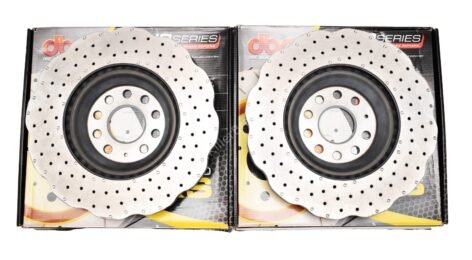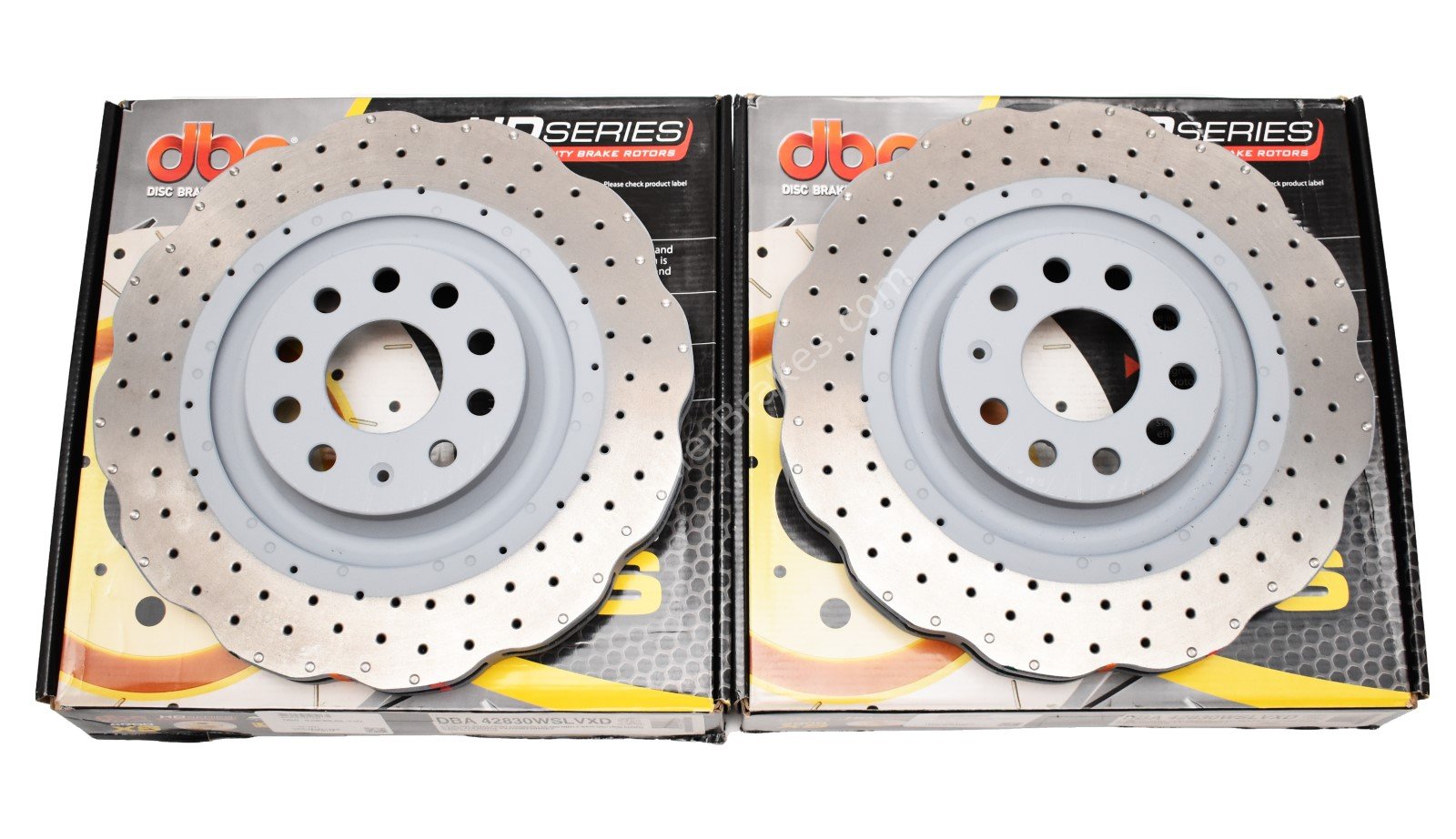 Front DBA42830WSLVXD Wave Brake Discs 340x30mm 4000 series T3 Drilled New
€450 incl. VAT => €535 Available on backorder, ask for delivery date before ordering!
High-performance Front DBA 42830WSLVXD Wave Brake Discs for sports cars and heavy-duty vehicles. Made from 4000 series T3 drilled alloy with a unique wave design for better heat dissipation and consistent stopping power.
Description
Additional information
Description
Front DBA42830WSLVXD Wave Brake Discs 340x30mm 4000 series T3 Drilled New
Front DBA42830WSLVXD Wave Brake Discs 340x30mm 4000 series T3 Drilled New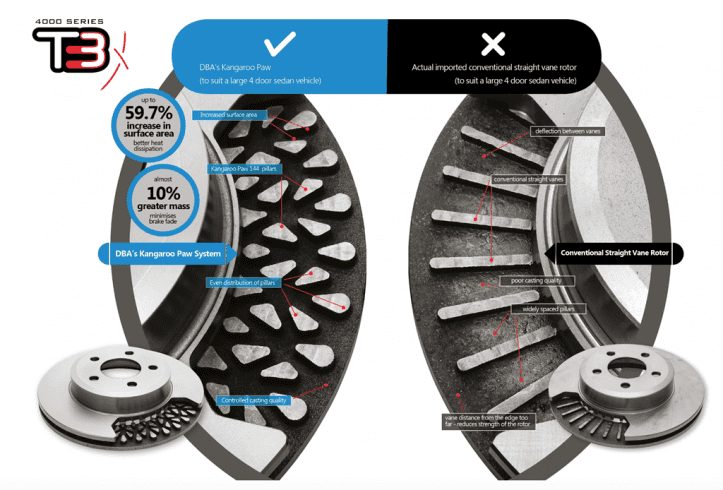 Feature Description

Advantage

Benefit

'T3 Slot 48 precision CNC machined slots'

Tri-Symmetrical curve slots dampens the vibration harmonics or noise
Increased number of out-gassing exit points for brake pad friction gasses to escape through
Universal slot design

A quieter, responsive and smoother brake pedal feel
Increases the consistency and effectiveness of every brake stop
Eliminates the need for left and right discs

Kangaroo Paw – 144 diamon d and tear drop pillar ventilation system

Increased surface area resulting in greater heat dissipation

Minimises brake fade and increases braking effectiveness
Prolongs service life for both pads and rotors. Reduces mechanical damage and associated costs

XG150 High Carbon Alloyed Iron

An increase in thermal capacity property allows the rotor to handle constant extremes of heat over extended periods of time

Minimises warping and cracking and prolongs the service life of the rotor

Thermal Stability Profiling

Special formulation designed to respond to DBA's TSP process

Minimises warping and cracking and prolongs the service life of the rotor

Thermographic Temperature Monitoring

Heat paint markings change colour at specific temperature thresholds
When temperature thresholds are exceeded paint markings will permanently change colours

Offers the driver a clear indication of peak braking temperatures
Allows the driver to monitor rotor fatigue and decide on rotor replacement and to assist resellers with warranty claims

Paint protection on non-friction areas

Reduces corrosion
Enhances appearance

Stops any unsightly rust formation
Adds value to the product
What is included:
2x(1Pair) Front DBA Wave Disc Brakes Product code: DBA42830WSLVXD 340x30mm- 4000 series – T3 Drilled (Audi Product code:1K0615301AD)

New
TECHNICAL INFORMATION:
    Diameter (mm): 340
    Height (mm): 49.7
    Thickness (mm): 30
    Min. Thickness (mm): 28
    Inner Diameter (mm): 65
    Number of Holes: 5
    PCD (mm): 112
    Disc Vent: Kangaroo Paw
    Axle: Front
    Weight (kg): 11
Compatibility:
Axle       Make    Model   Engine / Year
Front AUDI     S3 (8V) 0 Turbo (2013-2016)
Front AUDI     S3 (8V) 0 Turbo (2016-2020)
Front AUDI     TT quattro (8S)  0 Turbo (2014-)
Front AUDI     TTS quattro (8S)                0 Turbo (2014-)
Front AUDI     TTS quattro (8S)                0 Turbo (2015-)
Front SEAT      Leon (5F)             0 Turbo Cupra (2014-2016)
Front SEAT      Leon (5F)             0 Turbo Cupra (2015-2018)
Front SKODA  Kodiaq  4 Turbo (2016-2019) 2WD
Front SKODA  Kodiaq  4 Turbo (2016-2019) 4WD
Front SKODA  Kodiaq  5 Turbo (2018-) 2WD
Front SKODA  Kodiaq  5 Turbo (2018-) 4WD
Front SKODA  Kodiaq  0 TD (2016-) 2WD
Front SKODA  Kodiaq  0 TD (2016-) 4WD
Front SKODA  Kodiaq  0 TD RS (2018-) 4WD
Front SKODA  Kodiaq  0 Turbo (2016-2019) 4WD
Front SKODA  Kodiaq  0 Turbo (2018-) 4WD
Front SKODA  Octavia (5E)        8 Turbo (2013-)
Front SKODA  Octavia (5E)        0 TD (2013-)
Front SKODA  Octavia (5E)        0 Turbo RS (2013-)
Front SKODA  Octavia (5E)        0 Turbo RS (2015-)
Front SKODA  Octavia (5E)        0 Turbo RS (2017-)
Front SKODA  Octavia (5E)        0 Turbo vRS (2013-)
Front SKODA  Octavia (5E)        0 Turbo vRS (2015-)
Front SKODA  Octavia (5E)        0 Turbo vRS (2017-)
Front SKODA  Superb (3T)         6 4WD (2014-2015)
Front SKODA  Superb (3V)        0 Turbo (2015-)
Front VOLKSWAGEN  Arteon  5 Turbo (2018-)
Front VOLKSWAGEN  Arteon  0 TD (2017-)
Front VOLKSWAGEN  Arteon  0 TD (2018-)
Front VOLKSWAGEN  Arteon  0 TD 4motion (2018-)
Front VOLKSWAGEN  Arteon  0 Turbo (2018-)
Front VOLKSWAGEN  Arteon  0 Turbo 4motion (2017-)
Front VOLKSWAGEN  Arteon  0 Twin TD (2017-)
Front VOLKSWAGEN  CC           0 Turbo (2012-2017)
Front VOLKSWAGEN  CC           6 (2012-2017)
Front VOLKSWAGEN  Golf (Mk7)          0 Turbo GTi Clubsport (2016-2019) TRW
Front VOLKSWAGEN  Golf (Mk7)          0 Turbo GTi Clubsport S (2016-2019) TRW
Front VOLKSWAGEN  Golf (Mk7)          0 Turbo GTi Performance Package (2013-2017) TRW
Front VOLKSWAGEN  Golf (Mk7)          0 Turbo GTi Performance Package (2017-2019) TRW
Front VOLKSWAGEN  Golf (Mk7)          0 Turbo R (2013-2019) TRW
Front VOLKSWAGEN  Golf (Mk7)          0 Turbo R (2017-2019) TRW
Front VOLKSWAGEN  Passat   0 Turbo (2015-)
Front VOLKSWAGEN  Passat   0 Twin TD (2014-)
Front VOLKSWAGEN  Passat   6 4 Motion (2012-2014)
Front VOLKSWAGEN  Passat Alltrack (3G)         0 TD (2015-)
Front VOLKSWAGEN  Passat Alltrack (3G)         0 Turbo (2015-)
Front VOLKSWAGEN  Tiguan (Mk2)     4 Turbo (2016-)
Front VOLKSWAGEN  Tiguan (Mk2)     0 TD (2016-)
Front VOLKSWAGEN  Tiguan (Mk2)     0 Turbo (2016-)
Front VOLKSWAGEN  Tiguan (Mk2)     0 Twin TD (2016-)
Front VOLKSWAGEN  Tiguan Allspace 4 Turbo (2017-)
Front VOLKSWAGEN  Tiguan Allspace 0 TD (2017-)
Front VOLKSWAGEN  Tiguan Allspace 0 TD 4Motion (2017-)
Front VOLKSWAGEN  Tiguan Allspace 0 Turbo 4Motion (2017-)
Front VOLKSWAGEN  Tiguan Allspace 0 Twin TD 4Motion (2017-)
Minimum wheel size 17"
For more information please contact us at Office@killerbrakes.com